CBEP:Cross-Border Enforcement Project
There is no end to the malicious piracy websites abroad that infringe on a large amount of Japanese content. Furthermore, there are no means or systems in place to quickly identify operators of overseas piracy sites. Due of the existence of domain registration and bulletproof hosting companies that provide complete confidentiality services, it is becoming increasingly difficult to identify the operators of piracy sites. There are also concerns that the widespread use of high-performance mobile devices and the arrival of the 5G era (personal, fast, high capacity) will have an impact on piracy sites. Under these circumstances, CODA launched the Cross-Border Enforcement Project (CBEP) in April 2021 with support from the Ministry of Economy, Trade and Industry in order to strengthen international enforcement procedures.
Darkness:How piracy site operators hide their identities.(Anonymity and Confidentiality)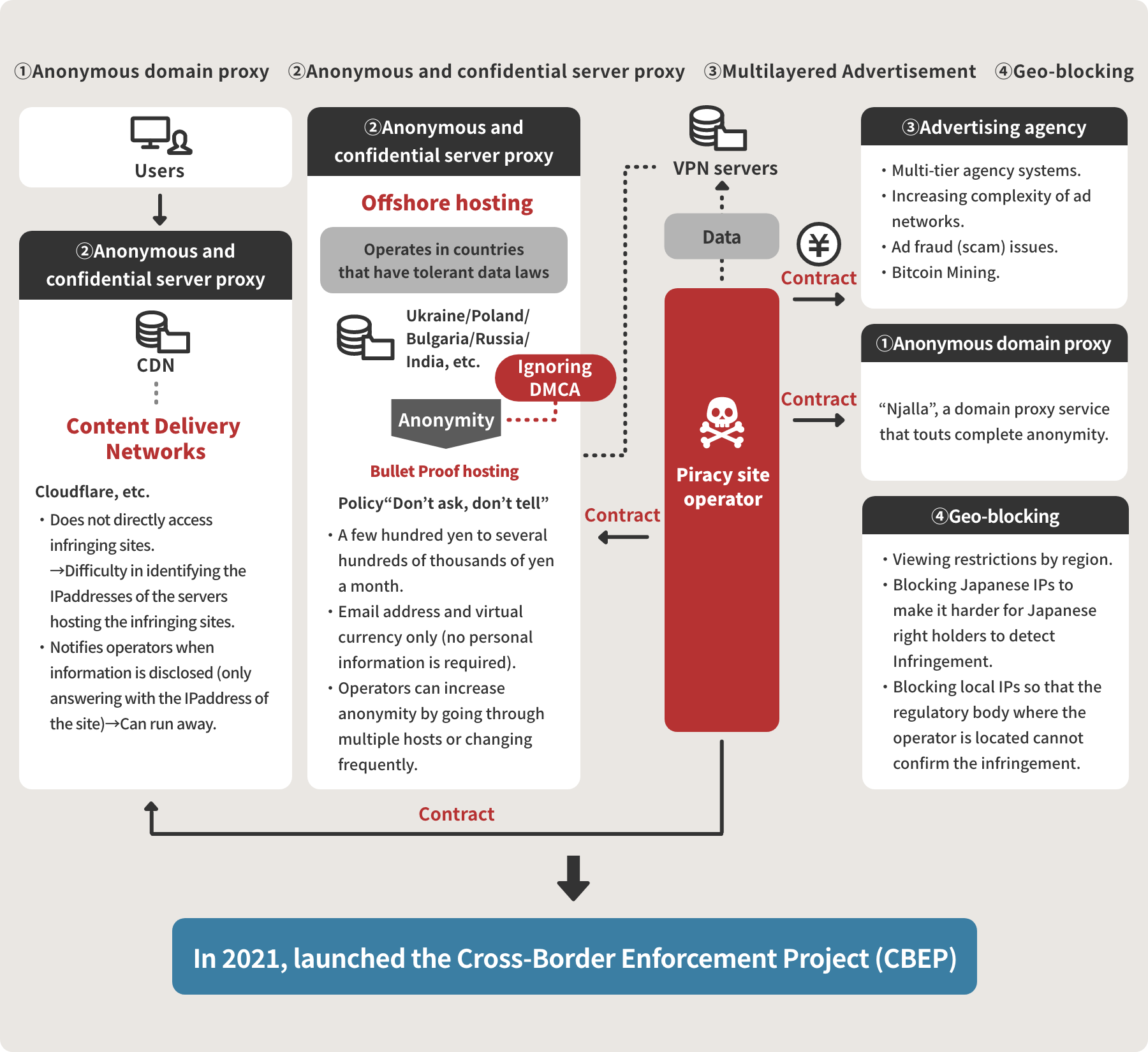 It is necessary to systematically establish an effective investigation system as soon  as possible.
We will fully utilize the knowledge and experience of ethical hackers(※) working with CODA to develop a single package of international enforcement systems for  malicious piracy sites.
We conduct digital forensics and digital profiling surveys. We also secure evidence that leads to operators of piracy websites by, for example, completing subpoena procedures to request that CDNs, etc., disclose sender information.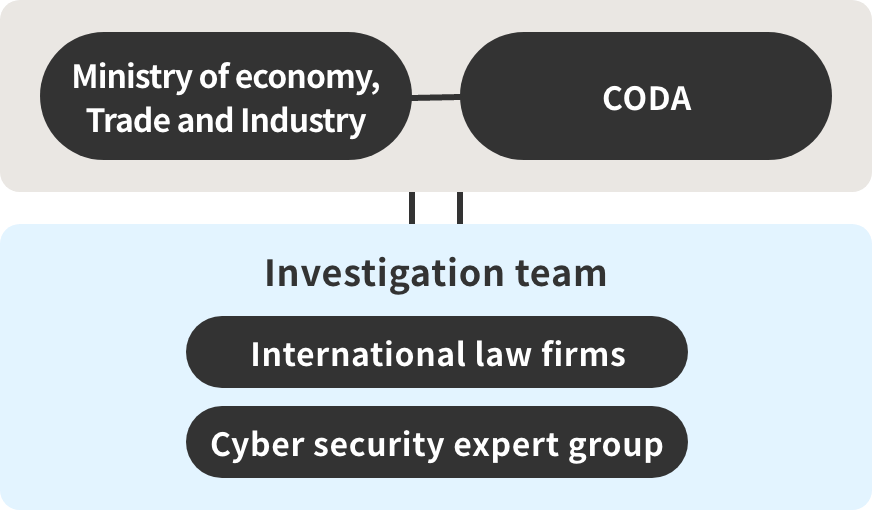 Supporting companies (alphabetical order)
Aniplex Inc. / Bandai Namco Filmworks Inc. / Fuji Television Network, Inc. / Japan Broadcasting Corporation(NHK)/ KADOKAWA CORPORATION / KODANSHA LTD. / Nippon Television Network Corporation / Shochiku Co., Ltd. / SHOGAKUKAN Inc. / SHUEISHA Inc. / TOEI COMPANY, LTD. / TOEI ANIMATION CO., LTD. / TOHO CO., LTD. / TOKYO BROADCASTING SYSTEM TELEVISION, INC. / TV Asahi Corporation / TV TOKYO Corporation
Cooperation:

Association of Copyright for Computer Software /Avex Inc. / Japan Association of Music Enterprises / Japan Commercial Broadcasters Association / Japan Magazine Publishers Association / NIKKATSU CORPORATION / YOMIURI TELECASTING CORPORATION / YOSHIMOTO KOGYO HOLDINGS CO., LTD. / WOWOW Inc.
Engineers with high ethical and moral standards who do activities such as preventing attacks from malicious hackers (crackers) using advanced technology and knowledge of computers and networks