CODA's Automated Contents Monitoring Center
Operation of Automated Contents Monitoring Center
Copyright infringement on the Internet, including unauthorized uploading to UGC (User Generated Content) sites, represented by video posting sites, has become a global problem. In FY2009, CODA began a countermeasure against illegal uploading as a demonstration experiment by the Ministry of Economy, Trade and Industry. Specifically, CODA started operating the "Automated Contents Monitoring Center" that combines site monitoring using crawling technology and video recognition (matching) using fingerprinting technology.
The Center, which shifted to voluntary operation in FY2012, sends removal request notices for unauthorized uploaded videos to each site operator with the cooperation of content holders and has maintained a high removal rate.
In July 2016, we launched "air receiving," which generates fingerprints simultaneously from TV broadcasts, allowing us to find infringing videos quickly after TV broadcasts. In FY2020, these comprehensive measures increased the number of videos and sites that slipped through the fingerprints. Therefore, we have strengthened "human monitoring," which involves exhaustive "visual" monitoring, to detect and remove illegal uploads early.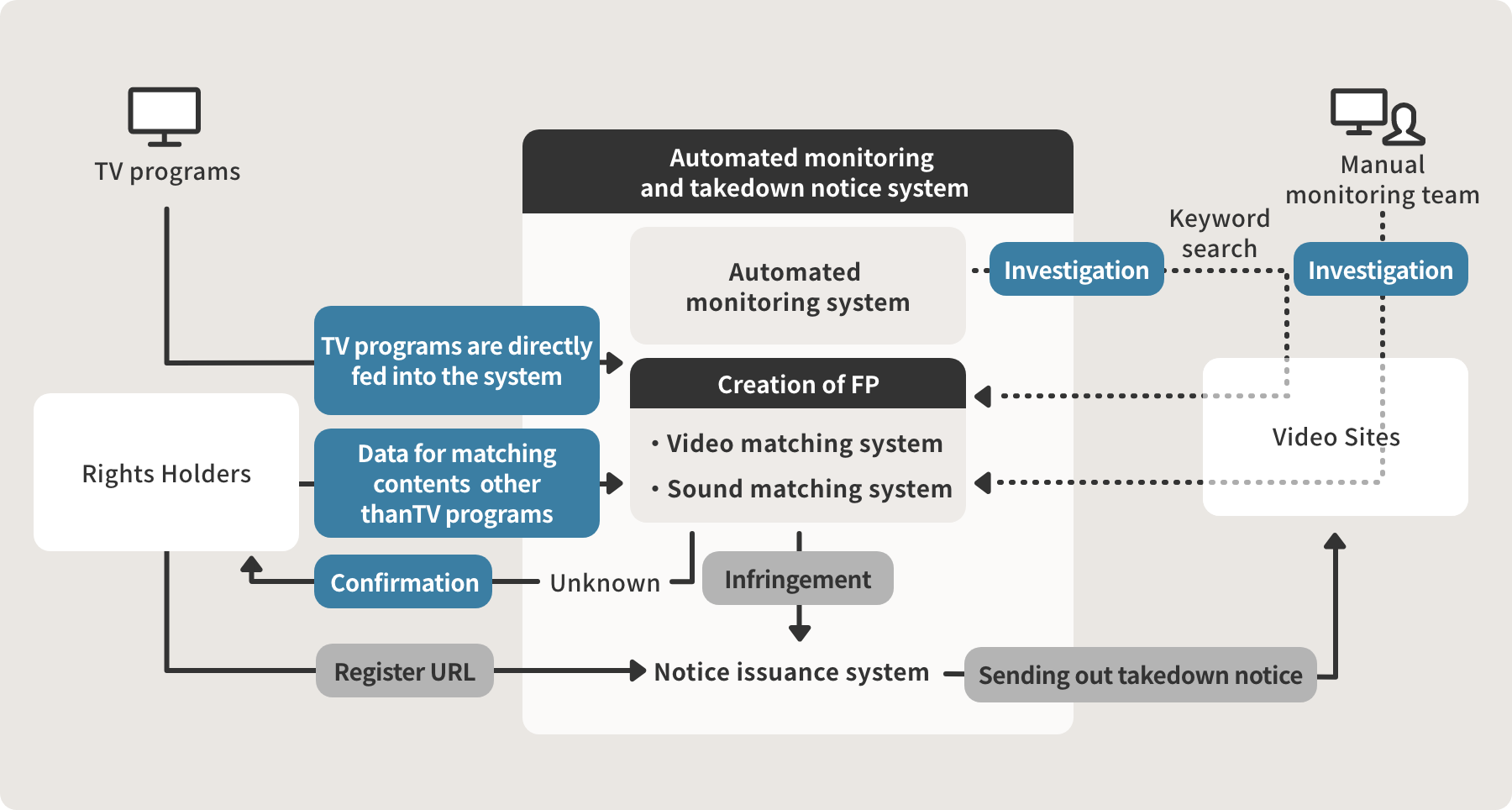 For YouTube, which has an exceptionally high number of uploads as a general service, we have received a Content Verification Program (CVP) from Google to expedite the process further. We are also proactive about reach and storage sites that are difficult to process by the system.
Slide to see the whole figure
Results of Takedown Requests(Between August of 2011 and March of 2022)
| Site name | Number of Notices | Number of Takedowns | Compliance rate |
| --- | --- | --- | --- |
| YouTube | 572,687 | 570,234 | 99.57% |
| Facebook | 218,139 | 211,647 | 97.02% |
| dailymotion | 139,431 | 139,416 | 99.99% |
| mangabank | 139,180 | 15,785 | 11.34% |
| bilibili | 138,980 | 120,963 | 87.04% |
| 9anime | 129,556 | 112 | 0.09% |
| youku | 121,505 | 121,404 | 99.92% |
| pandora | 107,197 | 107,195 | 100.00% |
| dramacool | 92,640 | 554 | 0.60% |
| tudou | 88,818 | 88,738 | 99.91% |
| naver | 85,125 | 70,831 | 83.21% |
| mega | 76,755 | 76,755 | 100.00% |
| gogoanime_3w | 67,956 | 487 | 0.72% |
| okru | 66,231 | 66,213 | 99.97% |
| mp4upload | 53,793 | 53,793 | 100.00% |
| googlevideo | 47,225 | 46,431 | 98.32% |
| xstreamcdn | 42,350 | 0 | 0.00% |
| gogoanime | 36,106 | 387 | 1.07% |
| vidstreaming | 24,779 | 0 | 0.00% |
| tunepk | 22,110 | 21,943 | 99.24% |
| rutube | 21,499 | 21,061 | 97.96% |
| ku6 | 18,127 | 18,126 | 99.99% |
| 56 | 10,720 | 10,716 | 99.96% |
| openload | 9,603 | 2,299 | 23.94% |
| anitubebr | 9,018 | 32 | 0.35% |
| tencent | 8,956 | 8,928 | 99.69% |
| b9dm | 8,876 | 5,135 | 57.85% |
| 9tsu | 8,726 | 8,726 | 100.00% |
| kissanime | 7,397 | 1,787 | 24.16% |
| animetv | 6,707 | 0 | 0.00% |
| miomio | 5,588 | 1,438 | 25.73% |
| chiaanimetv | 5,482 | 318 | 5.80% |
| streamango | 5,271 | 5,271 | 100.00% |
| acfun | 5,256 | 4,995 | 95.03% |
| fc2 | 4,303 | 4,303 | 100.00% |
| rapidvideo | 4,272 | 3,841 | 89.91% |
| Site name | Number of Notices | Number of Takedowns | Compliance rate |
| --- | --- | --- | --- |
| miomious | 3,866 | 0 | 0.00% |
| anitubebiz | 3,476 | 0 | 0.00% |
| streamz | 3,450 | 0 | 0.00% |
| cloud9 | 3,424 | 0 | 0.00% |
| daumtv | 2,780 | 3,238 | 85.86% |
| hydrax | 3,216 | 0 | 0.00% |
| videokvid | 3,156 | 0 | 0.00% |
| anitube | 2,884 | 1,951 | 67.65% |
| uolmais | 2,796 | 2,796 | 100.00% |
| clipwatching | 2,656 | 2,264 | 85.24% |
| iqiyi | 2,510 | 1,671 | 66.57% |
| vimeo | 2,128 | 2,128 | 100.00% |
| vidoza | 2,099 | 2,096 | 99.86% |
| dilidili | 1,995 | 614 | 30.78% |
| animelife | 1,814 | 0 | 0.00% |
| letv | 1,694 | 1,601 | 94.51% |
| thevideo | 1,505 | 4 | 0.27% |
| estream | 1,435 | 1,435 | 100.00% |
| watchanimes | 529 | 1,121 | 47.19% |
| nosub | 938 | 585 | 62.37% |
| pptv | 924 | 739 | 79.98% |
| himado | 532 | 532 | 100.00% |
| japantver | 242 | 0 | 0.00% |
| ani88 | 136 | 136 | 100.00% |
| wretch | 135 | 135 | 100.00% |
| bakotv | 120 | 0 | 0.00% |
| uploaded | 109 | 109 | 100.00% |
| amazonaws | 76 | 76 | 100.00% |
| saymove | 62 | 62 | 100.00% |
| blogme | 56 | 0 | 0.00% |
| anitoday | 35 | 35 | 100.00% |
| 6cn | 23 | 23 | 100.00% |
| twitter | 21 | 6 | 28.57% |
| instagram | 3 | 2 | 66.67% |
| baidu | 1 | 1 | 100.00% |
Total
Number of Notices2,462,240
Number of Takedowns1,832,174
Compliance rate74.41%