At the Digital Content of the Year '22 / 28th AMD Award, organised by the Association of Media in Digital (AMD) and supported by the Ministry of Internal Affairs and Communications (MIC), CODA received an Award for its work as the contact point for the plaintiffs, consisting of the 13 plaintiff companies (※1) , on "Winning the lawsuit in claiming damage compensation from Fast Movie uploaders".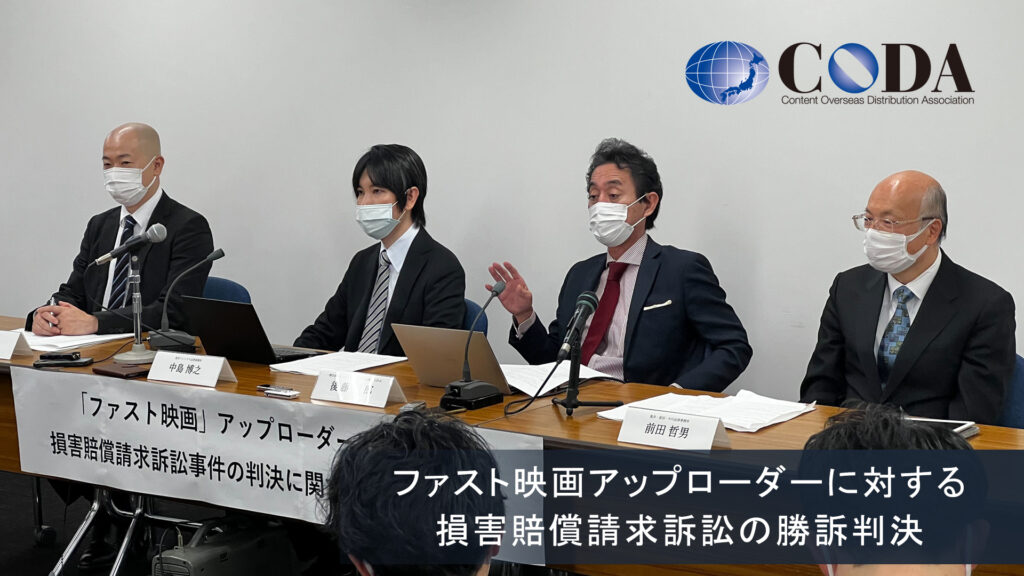 The AMD Award was established for the development of the digital content industry from the standpoint of content creators, with the aim of improving the quality of digital media and fostering human resources. The judging panel decides on the awards for content and services expressed through digital media launched, released or presented in Japan, as nominated by AMD Award supporters and general nominees during the eligible period.
The following recognition was given by AMD as the reason for this CODA award.
Amidst the growing problem of "fast movie", in which films are uploaded edited and abridged to 10-minute lengths, without the rights-holder's permission, CODA was put together as a point of contact for the plaintiffs, consisting of 13 member companies, and filed a lawsuit for damages against the defendants who had uploaded fast movie. The project has been a pioneering case in which a judicial decision was made to award damages of 500 million yen, and recognised the achievement of creating a major step forward in the appropriate protection and distribution of copyrights.
On behalf of the plaintiffs, comprising 13 member companies of CODA and the Japan Video Software Association (JVA), I would like to express our sincere gratitude for the recognition that our efforts have contributed to the promotion of the content industry. We hope that this award will serve as an opportunity to spread awareness of the problem of piracy and the importance of combating it. We will continue to combine wisdom with relevant organisations and companies and promote various projects to solve the problem for the proper protection and healthy legitimate distribution of Japanese content.
The awards ceremony will be held on Tuesday 7 March at 16:30, and CODA representative director Takero Goto will attend on behalf of the 13 plaintiff companies.
※1:13 participating companies (order of the Japanese syllabary)
ASMIK ACE, INC./KADOKAWA CORPORATION/GAGA CORPORATION/
Shochiku Co., Ltd./TOKYO BROADCASTING SYSTEM TELEVISION, INC./
TOEI COMPANY, LTD./TOEI VIDEO COMPANY, LTD./Toho Co., LTD./
NIKKATSU CORPORATION/Nippon Television Network Corporation/
Happinet Phantom Studios Corporation/Fuji Television Network, Inc./
WOWOW Inc.
■Related news releases
Ruling in an action for damages against fast movie uploaders
https://coda-cj.jp/en/news/177/
(translated by automatic translation system)