On February 14, 2023, the Public Security Bureau of China's Jiangsu Province detained and interrogated an unemployed male resident of Chongqing, A (age 33), on suspicion of operating "B9GOOD," the largest anime pirate site for Japanese people, and distributing anime and other works without permission from the rights holders. In addition, from February 18 to March 21, a search was conducted on a company employee female B (age 30) from Chengdu, an unemployed male C (age 38) from Shanghai, and a self-employed female D (age 34) from Fuzhou, Fujian, were searched and interrogated at their homes for distributing animation, movies, dramas, and other works without the right holders' permission through this website. After the criminal exposé of the main parties involved and an analytical investigation of the servers used, the site was completely shut down on March 27.
This is the first time that an operator of a pirated website in China has been criminally arrested following a complaint from Japan (CODA). "B9GOOD" was the largest Japanese anime piracy site, with Japanese content displayed in Japanese and approximately 95% of accesses from Japan. The fact that such a malicious site has been fully exposed through a criminal procedure in China is a very significant milestone.
The six companies that submitted requests to CODA for criminal detection were Avex Inc./ TV TOKYO Corporation,/TOEI ANIMATION CO.,LTD./ TOHO CO., LTD./ Japan Broadcasting Corporation (NHK)/and Bandai Namco Filmworks Inc. Several other CODA member companies(※1) also cooperated in the investigation by confirming the damage to the works listed on "B9GOOD".
Male A paid the bail bond and was released on bail on March 19. According to the investigation by the Public Security Bureau, Male A admitted to operating and uploading the site. A house worth 4 million yuan (about ¥80 million) that Male A had purchased with some of the income from "B9GOOD" advertisements has already been seized by the Public Security Bureau, but the Public Security Bureau is conducting a corroborative investigation, believing that Male A had earned 6 to 7 million yuan (about ¥120 million to ¥140 million) to date. Male A also stated that he was acquainted with female B and D, and that he paid them to upload the files. female B was paid 30,000 yuan (approximately 600,000 yen) and female D was paid 80,000 yuan (1.6 million yen).
Male C has been earning advertising fees by uploading illegal contents to other storage sites, directing them via links from "B9GOOD", and displaying his own advertisements, earning 300,000 yuan (approximately 6 million yen) to date.
The suspects will be indicted and begin criminal trial proceedings.
In the past, "B9GOOD" was established in 2008 under the site name and domain "B9DM" and later changed the name and domain of their main site to "B9GOOD" and continued to operate it until recently.
According to the web analytics tool SimilarWeb, the total number of visits to b9good.com for the two-year period from January 2021 to December 2022 exceeded 300 million, with the highest month having 15.81 million visits per month.(※2) In 2018, the Motion Picture Association of America (MPA) named "B9GOOD" to the U.S. Trade Representative's (USTR) list of "Notorious Markets"(※3). It was one of the most noteworthy malicious sites in the world.
It also served as a "link source for infringing content" linked from many reach sites. In the past, there have been cases where videos supposedly downloaded from "B9GOOD" have been re-posted on other UGC sites, which has had a significant impact on the infringement of Japanese content.
CODA's Automated Contents Monitoring Center began issuing removal requests for the site in October 2016, and to date has issued more than 10,000 removal requests. In October 2016, CODA also filed an administrative complaint with China's "Sword Network Action"(※4) against the site, which was operating as "B9DM" at the time, and has taken a variety of other measures.
In FY2021, CODA, with support from the Ministry of Economy, Trade and Industry (METI), launched the Cross-Border Enforcement Project (CBEP) to identify operators of pirate websites and conduct digital forensics and open source intelligence research in cooperation with ethical hackers and other cybersecurity experts and international law firms. The information obtained from this investigation also led to the identification of the operator.
Furthermore, in January 2022, CODA Beijing office was recognized as an NGO corporation in China, and "protection of legitimate rights of member companies" was officially recognized as its business activities, which made it possible for this criminal prosecution to proceed smoothly.
CODA will closely monitor the details of the case as they emerge from further interrogations and trials, and will actively cooperate with CODA's Beijing office in future investigations.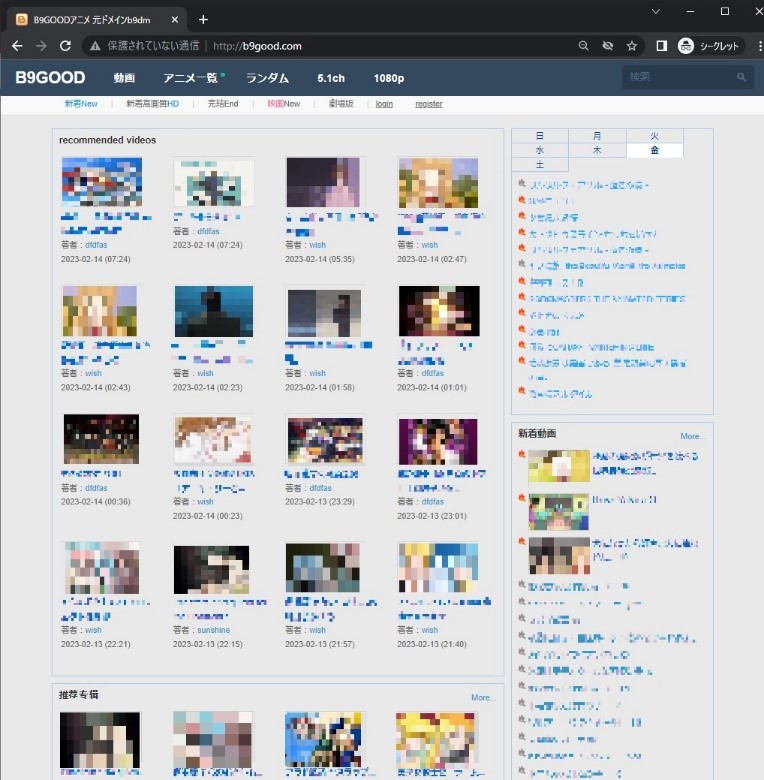 ※1:Avex Inc./ ADK Emotions Inc./ KADOKAWA CORPORATION/ KODANSHA LTD./ SHUEISHA Inc.
SHOGAKUKAN Inc./ Shogakukan-Shueisha Productions Co., Ltd./ Shochiku Co., Ltd./ STUDIO GHIBLI INC./
TOKYO BROADCASTING SYSTEM TELEVISION, INC./ Tezuka Productions Co., Ltd./
TV Asahi Corporation/ TOEI COMPANY, LTD./ TMS ENTERTAINMENT CO., LTD. / NIKKATSU CORPORATION/
Japan Association of Music Enterprises/ Nippon Television Network Corporation/ Fuji Television Network, Inc./
PONY CANYON INC./ YOSHIMOTO KOGYO HOLDINGS CO., LTD. / YOMIURI TELECASTING CORPORATION/
WOWOW Inc. (The order of the Japanese syllabary・22 companies ・as of March 30, 2022)
※2:Confirmed February 2023, SimilarWeb survey.
※3:https://www.motionpictures.org/wp-content/uploads/2018/11/notorious-markets-final.pdf
※4:A special action jointly implemented by four Chinese government agencies-the Cyberspace Administration of China, the National Copyright Administration, the Ministry of Public Security, and the Ministry of Industry and Information Technology-to protect copyrights on the Internet and combat infringement and piracy, which was launched in 2005 and is continued annually.
(translated by automatic translation system.)