From February to March 2023, several malicious piracy sites of Japanese anime in Brazil, including "goyabu.com" and "animeyabu.com," were shut down due to accusations by CODA members. These pirate sites were publishing Japanese anime with subtitles in Portuguese, the local language, on the Internet without the proper authorization from the rights holders.
Since 2019, the Brazilian government has continued to implement "Operation 404″(※1), a public-private partnership to combat pirate websites, with significant results. This time, as part of this operation, a simultaneous crackdown called "Operation Animes"(※2) specializing in Japanese animation was carried out for the first time.
To date, CODA has filed criminal complaints by its members and criminal referral from CODA against Japanese pirate sites operating overseas, such as "Anitube" in Brazil and "B9GOOD" in China. However, the sites targeted this time are not for Japanese but for local viewers in Brazil. This is the first time that CODA members have brought criminal referral(※3) against a pirate site that specializes in "For Overseas" sites, and this is the first time that such a site has been exposed.
In November 2022, TOEI ANIMATION CO., LTD., TOHO CO., LTD., and Bandai Namco Filmworks Inc. filed criminal referral through CODA against four pirate sites in Brazil that infringe on Japanese animation. The investigation revealed that two of the sites were opened by the same operator. In response to this, since February 8, 2023, raids and other investigations have been conducted in each of the three cases, and a total of 13 sites have been closed down, including these four sites as well as nine related sites operated by the suspects. Furthermore, based on the information revealed by our subsequent investigation, we conducted knock-and-talks (direct negotiations) with the operators of another 9 sites, and as a result, these 9 sites and their 9 affiliated sites, totaling 18 sites, were also shut down. A total of 31 sites were closed as a result of CODA's involvement.

In response to the closure of these sites, another 5 piracy sites in Brazil were voluntarily shut down, resulting in the closure of 36 Japanese anime piracy sites in Brazil so far as a result of the series of operations. The average monthly traffic for these 36 sites in the last three months (December 2022-February 2023) reached approximately 83 million, resulting in the closure of 12 of the top 20 animation infringement sites in Brazil as of the time before this measure was implemented (February-April 2022).
Furthermore, 22 of these 36 domains have already gave away through negotiations, and access to these sites now automatically directs visitors to a page opened by CODA notifying them of the closure. Negotiations will continue for the remaining sites to gave away their domains.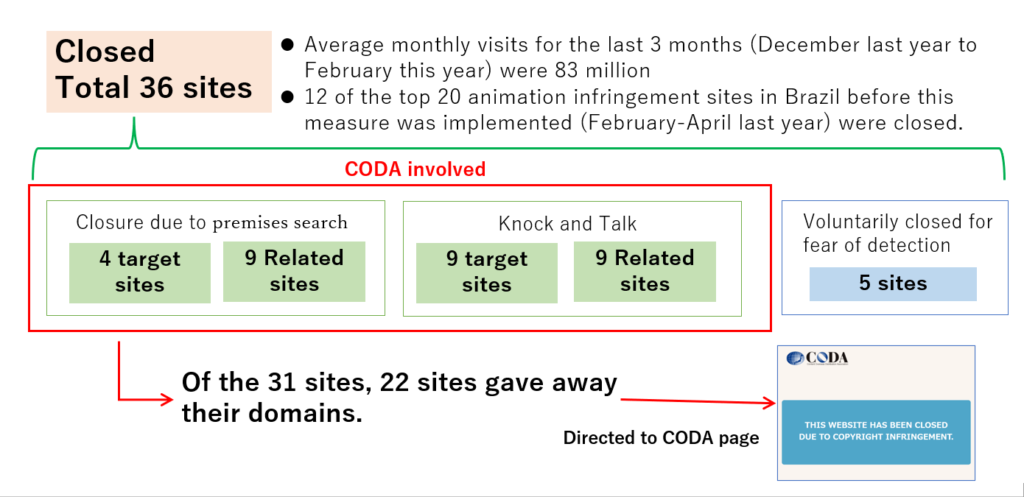 According to Google Trend, a tool that looks at search trends for words on Google, the search popularity of legitimate service site names reached its maximum value from February 26 to March 4, 2023, during the period of mass site closures in Brazil. Furthermore, according to a local research firm, several Brazilian social networking sites have also confirmed comments referring to trials on legitimate sites, indicating an increasing trend toward the use of legitimate content(※4).
With the advancement of digital networks and the increasing sophistication of mobile information terminals, the problem of piracy on the Internet is becoming more serious. Some of the sites covered in this issue are, Access from Japanese IPs was blocked to prevent Japanese right holders from discovering the infringement. And it is also not easy to research information on sites that appear in Portuguese within Brazil.
On the other hand, it is difficult for legitimate distributors in the Latin American region who are doing business with legitimate licensed Japanese content to succeed in legitimate business in a situation where pirate sites are prevalent. CODA will continue to take proactive measures overseas to realize a healthy market where authorized operators of Japanese content can conduct business properly and distribute authorized products of Japanese content.
This activity was part of a project entrusted from the Ministry of Economy, Trade and Industry.
※1:The public-private partnership anti-piracy operation in Brazil that began in 2019 has been named "Operation 404" by the Brazilian Ministry of Justice after the "404 error (page not found)," and has so far resulted in the blocking of 1,974 sites, the removal of 783 illegal apps, and 128 raids in 20 states.
※2:News Release on "Operation Animes" by the Brazilian Department of Justice
https://www.gov.br/mj/pt-br/assuntos/noticias/operacao-retira-maiores-sites-de-pirataria-em-anime-do-ar
(Published February 8, 2023; updated February 13, 2023)
※3:A request to the local police to investigate a suspect because of a suspected crime
※4:January 2023 – March 2023 by SimilarWeb data
(translated by automatic translation system)