On April 26, 2023, the Content Overseas Distribution Association (CODA) and the Copyright society of China, a Chinese copyright protection organization, signed a Memorandum of Understanding (MOU) for the purpose of forming a strategic alliance regarding the respective content of Japan and China. On the same day, a signing ceremony was held at the Orient International Center in Beijing. April 26 is World Intellectual Property Day, designated by WIPO, and events to deepen understanding of intellectual property are held annually in various regions of the world.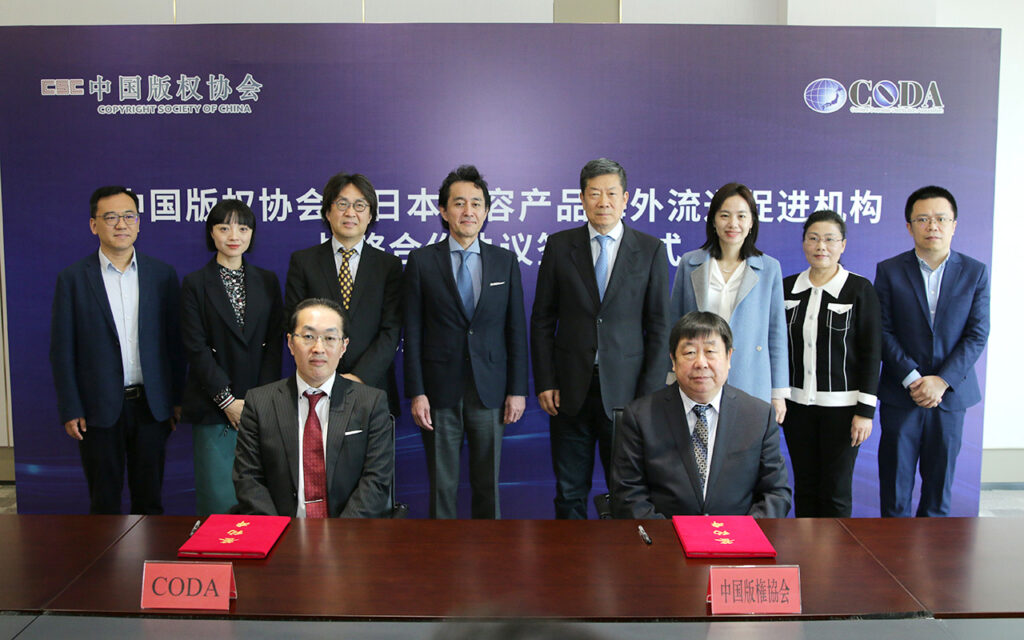 The Copyright society of China is a private organization established in March 1990 under the supervision of the National Copyright Administration of China as a nationwide organization specializing in the field of copyright in China. Since 2010, CODA and the Copyright society of China have co-hosted numerous training seminars and copyright awareness events on copyright protection to deepen mutual understanding between the two countries and promote the healthy development of the content industry.
With the conclusion of this MOU, CODA and the China Copyright Association will leverage their respective strengths to build a cooperative relationship in a wide range of areas for authorized content distribution and copyright protection in both countries, including the development of anti-piracy measures through information provided by both parties as a strategic alliance.
At the signing ceremony, Yan Xiaohong, Chairman of the Copyright society of China, said, "We have continued exchanges with CODA in the Corona Disaster, including joint holding of seminars. With the continuous development of new technologies, international cooperation in the implementation of anti-piracy measures has become indispensable. Criminal liability must be pursued against malicious infringers. We will discuss and realize the contents of the MOU one by one in the future". CODA Representative Director Takero Goto said, "We are very pleased that CODA and the Copyright society of China have signed a memorandum of understanding on cooperation for content protection and distribution promotion between the two countries on this memorable World Intellectual Property Day," and promised further collaboration between the two organizations.
CODA has also signed memorandums of understanding on copyright protection with the Korea Copyright Protection Agency(KCOPA), Copyright Overseas promotion Association(COA), Intellectual Property Office of the Philippines (IPOPHL), and Hong Kong Customs.
This activity was part of a project entrusted from the Ministry of Economy, Trade and Industry.
(translated by automatic translation system)